The Company
Modena Funghi (www.modenafunghi.it) is a family-run agri-food company,
active both in the fresh mushroom sector and in the ready-to-eat food sector.

 

The agri-food sector is a primary and anti-cyclical sector par excellence;

in particular, Modena Funghi sells fresh mushrooms (champignons and other types) as well 
as producing and marketing artisanal vegetable burgers much appreciated by consumers.

Modena Funghi SRL operates in premises rented from the Rinaldi Farm.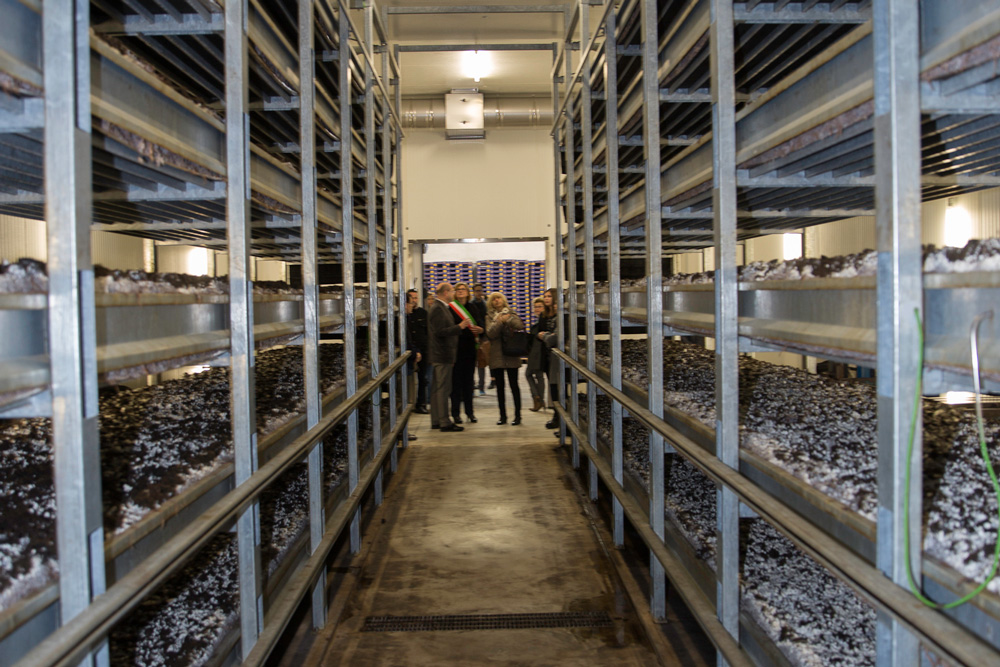 The Products
Products

FRESH MUSHROOMS

Modena Funghi is one of the largest Italian companies 
in the retail trade of fresh mushrooms.

Modena Funghi is one of the few companies that packages private label 
"private label" for some GDOs and this gives it a stable position in the legal supply relationship.

The line of fresh mushrooms "Mr. Fungo "is present on the market under the company's own brand.

In general market terms, the demand for fresh mushrooms packaged in trays by the large-scale 
retail trade is higher than the offer so the company's position is of great strength.

 

VEGETABLE BURGER

Modena Funghi is also specialized in the artisanal production of high quality baked vegetable 
burgers, with or without mushrooms, both organic and conventional, without preservatives, and fresh frozen.

In 2019, to consolidate its "own brand" line, Modena Funghi introduced the "Mr. Burgy "and" Veg ... me 
too "on their own lines of fresh gluten-free vegetable burgers for large-scale distribution.

 

The line of fresh mushrooms "Mr. Mushroom "and that of veggie burgers" Mr. Burgy "and" Veg ... me too ", finally, 
has a" compostable "packaging in compliance with the most recent environmental sustainability legislation.
- MR. MUSHROOM
The Mr. Mushroom line was created to give a breath of freshness to the offer of fresh mushrooms
and to attract a wider range of consumers through a new and impactful color combination.




                         <<< Vedi Brochure MR. Fungo >>>

- MR BURGY
Burger 10%% Vegetablee

                       <<< Vedi presentazione di Mr. Burgy >>>
- VEG ANCH'IO
Biologico, gluten free e monoporzione il burger Veg…anch'io è Ideale per creare un appetitoso panino, per essere accompagnato da salse sfiziose o da un contorno di verdure sano e leggero.
Il burger Veg…anch'io® conquista al primo assaggio.
           <<< Vedi presentazione presentazione burger Veg…anch'io >>>
Agri-food certifications
Modena Funghi has the following agri-food certifications: IFS HIGH LEVEL, BIO, KOSHER



Production chain
Modena Funghi is the head of the food chain of its own agri-food chain of certified producers united by the traceability documentation that reports every step made by a food product 
in order to guarantee its originality and wholesomeness to protect the health of consumers.

The link represented by the supply chain guarantees the continuity of supplies.
Research and development
Modena Funghi carries out Research and Development activities which are reported annually by a third company (Warrant).

This R&D activity has allowed us to develop and achieve the ability to make "Mr. Burgy "and" Veg ... too "gluten-free and without preservatives, both fresh and frozen, baked and packaged 
in a protective atmosphere

For the fresh mushroom sector, R&D has allowed us to develop a new way of working and packaging the product that makes up the "Mr. Fungo "and which today is present in most of the large-scale retail trade in northern Italy.

The R&D activity carried out internally has led to the acquisition of important national and foreign customers.

In particular, we produce private label (so-called PL) for some reference distributors in Italy and Germany.
Production Sector
Foodstuff


Business activity
Fruit and vegetables and their derivates